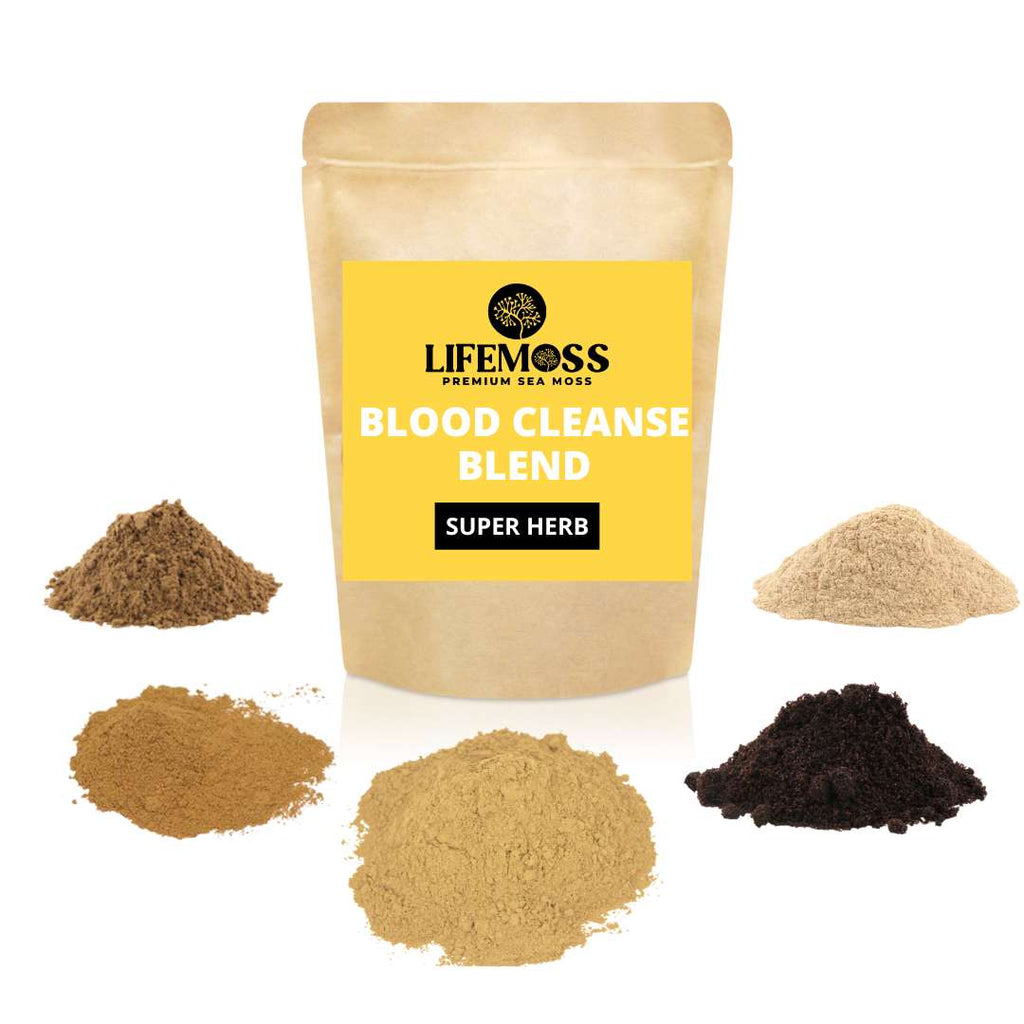 Ingredients Include these Herbs: Burdock root, Yellow Dock, Sarsaparilla, Elder Berry, Hydrangea Root
The Complete Blood Cleanse blend supplement is used to prepare a tea, smoothie, or favorite beverage. To prepare as a tea, add 1/2 teaspoons of each herb to the Ultra Fine Tea ball infuser. Place Ultra Fine tea ball infuser into a cup. Then boil water and once the water is boiled pour it into the cup. Cover and steep for 10-15 minutes.  enjoy. To prepare a smoothie add 1/2 teaspoons to a blender with fruits and plant-based milk.
Complete blood cleanse: 
This combination of herbs helps cleanse the blood, liver, and kidneys. These powerful herbs provide a general cleaning to help relieve blood pressure put on the whole body by the blood while being compromised by pathogens and toxins. These Pathogens and Toxins are circulated throughout the body and lead to the development of issues like:
High Blood Pressure, Hypertension, Low Blood Pressure, Stroke, Heart Attack, Aneurysm, Kidney damage, Memory issues, Memory Loss, and Vision Loss
 * All Herbs in our bundles are Organic, Wildcrafted, or Consciously Cultivated
*Pregnant or nursing mothers, individuals under 18, and individuals with known conditions should consult a physician before use. 
It's a good product I will recommend to anyone who used natural remedies
Very good and effective
The blood cleanse pack has brought so much relief to my mother who was diagnosed with aneurysm .she had descending aorta aneurysm of 5.6 in diameter and it went down to 4.1 .This is very effective and helpful.cant wait to reorder .
Phenomenal
The Blood Cleanse has worked and I feel great if you incorporate it with a diet and exercise. You can lower blood pressure, more energy, nice skin and great sleep. I take it everyday now I waiting for my order again. Please hurry
Complete blood cleanse powder blend
Sea Moss Gel
The Sea Moss Gel has changed my life! My skin is glowing, wounds heal faster with almost no scaring. I recomend this product to everyone I meet!